Buninyong Meeting, May 2019
Mike Maloney has booked the Uniting Church Hall for the afternoon of Saturday, 11 May, 2019 on behalf of the Club. We will have access to the hall from 1:30 pm to 5:30pm, with the meeting proper to start at 2:00 pm. Join us for the one meeting of the year where you will not be plagued with a boring business meeting.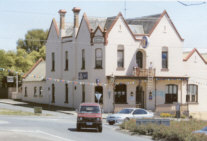 A counter lunch at The Crown has been well supported in previous years. The food is good and the prices are reasonable. If you wish to have lunch there this year, please let The Secretary know numbers no later than the end of April. We will need to meet at The Crown by at least 12.30pm to avoid rushing the meal.
For the benefit of members who have not visited Buninyong before, here are two maps to assist you. The first is an area map that shows the position of Buninyong relative to Ballarat. The second is of the town centre. The town hall is about 100m to the right of the inverted 'T' intersection and The Crown is on the left hand corner, as you look at the map.
The Uniting Church is in the same block and about 150m beyond the Town Hall, with the entrance just beyond the CFA Fire Station. The picturesque Church is set in the top left corner of the block, approached by a driveway up through the trees. The hall itself is to the right of the drive, opposite the Church. Car parking is available adjacent to the hall, under the trees.
For those who may want to bring their own picnic lunch, the Buninyong Gardens are diagonally opposite the rear of the church grounds (cnr Scott and Inglis Streets - see town map), with an electric barbeque and a rotunda for shelter.
Further information is available from The Secretary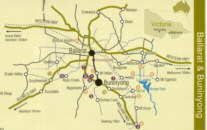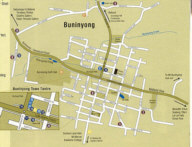 Click on a map to enlarge.